Before Goodreads was a thing, the only way I tracked the books I was reading was a cute notebook I had bought at a bookstore.
I'd, because I'm no beautiful bullet journaling type, sloppily write down the books I read with a rating system of 1-10 and then I had other pages to keep tracks of books I wanted to read or that I heard about from people or magazines.
I loved the ritual of my little book journal and having that record of the books I was reading and keeping track of what I wanted to read — though pre-Goodreads and book blogging my reading list wasn't nearly so unwieldy.
Then in 2008 I discovered Goodreads and I stopped using my reading log journal for many years as I transferred all that digitally.
At first I loved such an easy way to keep track of what I read and space to write about the books as well as a way to keep track of the now overflowing reading list I had since joining.
But somewhere around 2016 or so I got nostalgic for the ritual of writing in a reading journal and having that physical relic of my reading journey so I went looking for some good book lover reading journals that were already set up instead of my little makeshift reading log.
I found a really great array of reading journals for book lovers — all perfect for different kinds of readers who might have different needs and wants in a book journal: simple and to the point, beautiful with lots of extras, affordable, perfect for on the go or maybe a little more room for journalling.
Let's take a deep dive into the best reading journals I found (and I'll give you my pick) to help your bibliophile self the best book lovers journal out there if you aren't into creating your own. (Trust me I tried a book lovers bullet journal on my own and I couldn't sustain it thus my switch to something already created!).
Note: I had hoped to take photos of them so you can see them at length but time ran out before I'm leaving for vacation to include the insides of these reading journals so more in depth photos (and maybe a video if I can figure that out!) to come.
Disclosure: This post may contain affiliate links which means that if you click on a link and purchase something I've talked about or recommended, I'll receive a very small percentage of the sale. Please see my disclosure policy for more info
QUICK GUIDE TO BEST READING JOURNALS
Best Reading Journals, Reading Logs & Book Lover Journals For 2023
Kunitsa Reading Journal – MY TOP PICK OVERALL
The most aesthetically pleasing one to me in the bunch (honestly why I bought it if I'm being honest) but the actual content of this reading journal wowed me too! This is the one I'm currently using!
I originally found it on Amazon (and that's where I bought it — makes a great book lover gift on Amazon) but you can also purchase it from Etsy if you wish to not buy on Amazon.
There are four color options — 2 to choose from for the 52 book journal and 2 colors for the 104 book journal.
What It Includes: 2 page book review/thoughts spread, lists for books finished/to-read/favorite books/DNF books/books lent out & borrowed, Daily Reading Tracker, Reading Challenges (nice to be able to fill in for my Goodreads challenge), Color/Draw-in Bookstack
Potential Drawbacks: The most expensive of the bunch!
Things That Stand Out: Aesthetically, for my taste, this one stood out — clean, minimalist and color aesthetics that mesh with my style. It's really gorgeous! A page for books you didn't finish as well as one of those pretty color-in bookstacks I have attempted and failed to draw in my bullet journal. But the best part about this one was the layout of the 2 page spread– the best balance of guided prompts and a whole page for free space. I've seen people get really creative with that space or if you write really long book reviews it's PERFECT.
Best for: readers who really want a lot of space for their book thoughts or a place to get creative with a whole free space to do what you want in addition to other nice lists and trackers for a comprehensive reading journal
Size: 8.5x 6″
Other Details: vegan leather cover, padded, 2 ribbons to hold your place
For The Love Of Books Record Keeper For Readers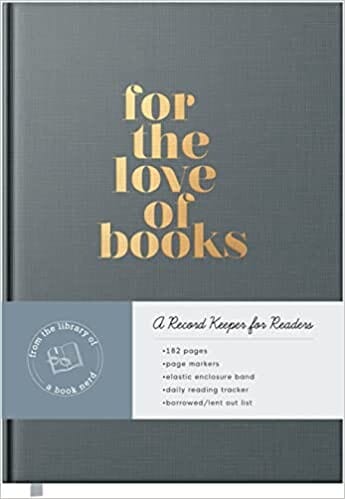 This reading journal includes space for 52 book reviews with one page to detail format and basics (star rating, format you read it in, genre, page count, etc) and the other to share a favorite quote and a few sentences of a review.
This one was the perfect size to throw in a bag which I appreciated as I love to jot down books when I'm perusing the bookstore that I want to add to my reading list but get at the library.
What It Includes: book review spreads, daily reading tracker, borrowed books/lent out tracker, reading bucket list (books you want to read), genre checklist
Potential Drawbacks: I read more than 52 books per year so I had to pick and choose which books I added in here (or buy a second one for the second half of the year which it's affordable so isn't a terrible option).
Things That Stand Out: the book details/review portion has one of the best setups for me & I loved the genre checklist if one of your reading resolutions is to try to read widely across more genres. Also the addition of a borrowed books/lent out is attractive if you do a lot of that (helped me keep track of my library books borrowed and due dates).
Best for: readers who want to jot a few sentences down about the book they read (along with other details you are prompted to answer) but don't want to write overly detailed reviews. A great first reading journal to try because it's not too overwhelming or overly detailed.
Size: 6″ x 9″
Other Details: 116 pages, hardback, linen wrapped, modern & clean design, ribbon page holder, elastic closure band, sturdy pages
You May Also Like: The Best (Not-So-Basic) Bookmarks For Readers
My Reading Life Book Journal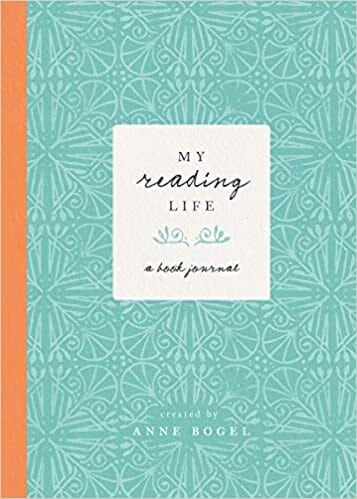 Made by Anne Bogel, bookworm host of the What Should I Read Next? podcast, you can tell this was made by a book lover with the way it doesn't just feel like a tool to use but a cozy and warm book lover journal that invites you in to think thoughtfully about the books you read and your reading life as a whole. It's a nice little book journal to throw in your bag with you and take it anywhere.
What It Includes: daily reading habit tracker, place to record what you read/thoughts, to-be-read list, loaned books list, book lists for reading inspiration, inspirational reading quotes, tips, journal prompts & questions
Potential Drawbacks: It's on the smaller side so it's not great if you want to write longer reviews or can't write on the small side. There are only 32 spots to add books you want to read which can be a good or bad thing as you have to be more intentional about what you add which I have actually enjoyed to prioritize what books I truly WANT to read versus the books I add with no abandon to my Goodreads "want to read" list.
Things That Stand Out: I love that there is room for 100 books for those who read a lot and honestly this gives a little more than a standard reading journal with the book lists giving some wonderful reading inspiration with book lists and other nice tidbits.
Best for: readers who want to not just track the books they are reading but also think thoughtfully about their reading life/what they read as well and be inspired in both what to read and with how to enhance your reading life.
Size: 5.25 x 0.75 x 7.25 inches
Other Details: 192 pages, hardcover
Novelly Yours Book Review Journal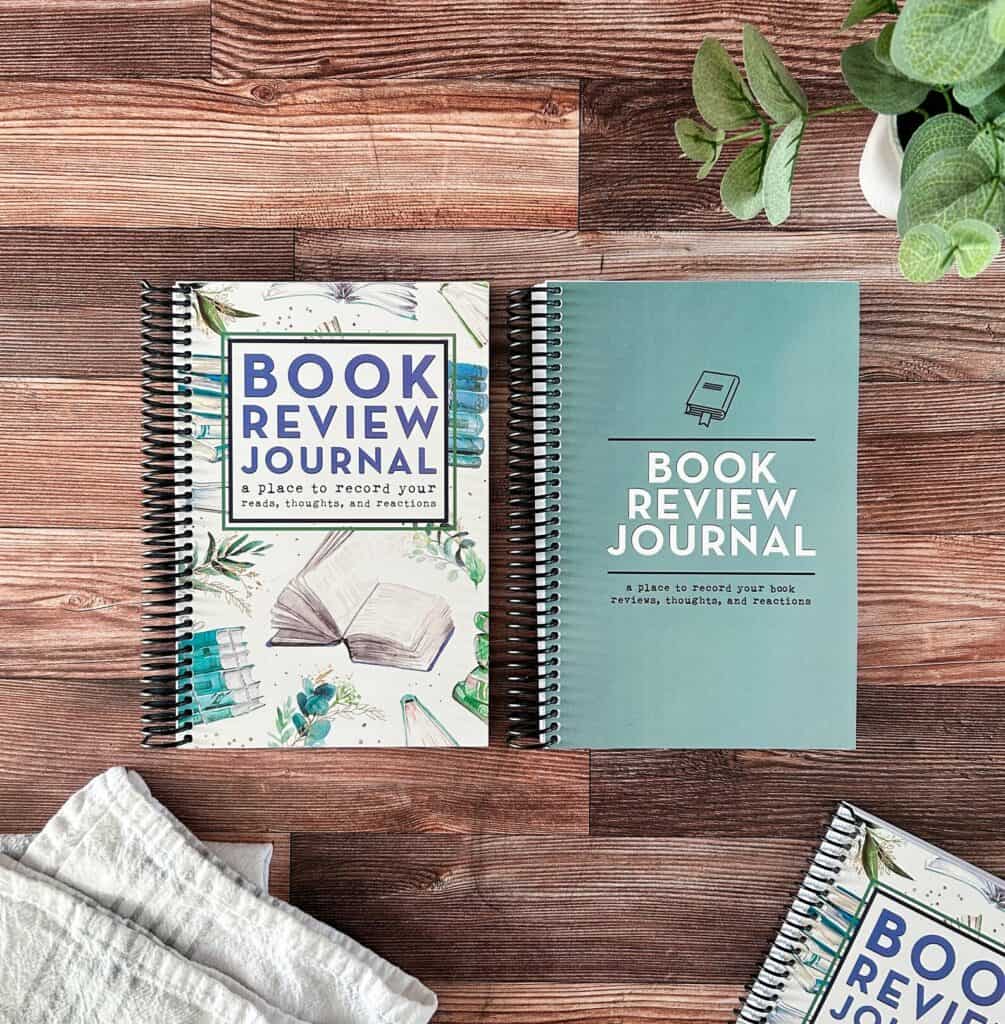 I've known Brittany, the creator of this book review journal, for a little more than a decade through the book blogging community. You might know her from her amazing literary candle business Novelly Yours — truly some of my favorite candles to gift to book lovers.
You can immediately tell that this book journal was made by someone who has been logging and writing book reviews for a long time to know the things book lovers want in a reading journal. Everything she has you log on the book review page is exactly the info I'd want space for – format you read, genre, star rating, page #, favorite quote and more!
P.S. She also sells a digital spreadsheet reading log if that's more your thing!
What It Includes: one page for wishlist books & "want to read" list, 2 page book review spread, short favorites list in the back (perfect for end of year logging for me)
Potential Drawbacks: I personally am not a huge fan of spiral bound journals but that might not be a problem for you. The area to record 'books you want to read' is only one page if you desire a more extensive TBR recording.
Things That Stand Out: I love the option on her shop to pick between the book journal that has space for 50 book entries and 100 (plus two different cover options). I love that this book review journal has a section for notes that you can jot down when you are in the middle of reading it — something I haven't seen anywhere else I love using that for things I want to remember or impressions about half way through — especially for book club books or books I plan to review.
Best for: readers who want to mostly focus on just logging their thoughts about books they read in a well thought out way but not necessarily write huge book reviews.
Size: 6″ x 9″
Other Details: spiral bound notebook with heavy cardstock cover
You May Also Like: A Beginner's Guide To Audiobooks
Reading Journal from C. Whitney
I found this on a whim because I was looking for an cheaper/affordable reading journal that went beyond some of the simple reading logs I had seen that were more on the budget conscious side which seemed like a unicorn to find.
This my top pick for most affordable reading journal that checks all the boxes I am looking for. Would be perfect if it allowed you more than 50 book entries!
What It Includes: 2 page spread for recording your books (plus a master list of Books Read that cross references each entry), decorative bookshelf to record your books visually, lists for books you want to read/books borrowed or loaned/record reading challenges, extra pages in back
Potential Drawbacks: Thin pages (I didn't use pens that I knew would bleed through so test it out before you pick a pen to use). Only up to 50 book entries if you read more than 50 per year. It's also on the large side physically so that could be a good or a bad thing depending on what you are looking for.
Things That Stand Out: The value — a really nicely setup/organized reading journal that is really cute that is budget friendly! The huge space for writing your thoughts on books!
Best for: budget conscious readers looking for a whole lot of space to log their thoughts on books they've read that also includes some really nice extra features to it.
Size: 8.25 x 11
Other Details: The one I have is softback but I see an option for hardcover that came out last year (can't speak to that one)
You May Also Like: The One Thing That Was A Game Changer With Bookshelf Organization
Book Journals On My List To Try
These are all reading journals that I have on my list to try because I've heard good things about them or I found them. I only use one reading journal at a time so this list will continue to be a work in progress as I try different ones out so know that these aren't personal recommendations but just other ones on my radar to now be on your radar! Would love to hear if you've used any of them to know which one I should prioritize.
This Gorgeous Journal
I want to snag this one so bad but I've been hesitating because it's costlier than most others (especially with shipping) but it's SO beautiful. It has so many different colors and patterns to choose from which I LOVE and not many other book journals out there have more than 2 options for color.
I love how the book log is set up and it seems to have some fun other lists to fill out!
You May Also Like: Best Gifts For Book Lovers (That Aren't Books)
This Hybrid Book Planner/Journal
The hype around this one is REAL! I watch everyone scrambling to get these when they release and I have such FOMO but I always seem to miss them before they sell out. The setup is amazing with this reading planner/journal. Perfect if you want a reading/book planner and a place to write small book reviews.
They also have book review notebooks without the planner aspect which look nice too! But this one above is the ultimate reading journal to track EVERYTHING book related.
You May Also Like: How To Find More Time To Read More Books
This Other Hybrid Book Planner/Log
This one has been on my list for a few years because many people in the book community rave about it — especially creators. It has a lot of nice features to record and list. I love that they have a weekly/monthly options, calendar views and wrap-ups.
I've put off buying it for a couple of reasons — I'm not in love with the style of it (just my own taste) and it seems like more of a planner and I'm still trying to figure out how much space there is to record book thoughts versus just a place to record what books you read. I feel like from what I've seen it's more so just to log what you read than jot down thoughts.
I think I could totally use the planner aspect for my reading life and my book blogging life but I already love my planner setup I have for the blog (I love my Clever Fox planner so much). So still thinking on that but a great option if someone wants to use it as a hybrid planner and place to log WHAT they read without planning to write book reviews.
This Book Journal With Spaces For 80 Book Summaries
This one has been high on my list but for whatever reason I've gone with other ones before it. However, considering it says book club on it, I think I might use it exclusively to track book club reads through the years. Would be a fun little memento to have! Could make a GREAT book club gift idea!
I'd love to hear what book/reading journals you are into! I feel like right now I'm in love with the one I'm using but I'm always open to finding something that will suit my needs/wants better!
P.S. Need some great books to read to fill one of these beauties up?