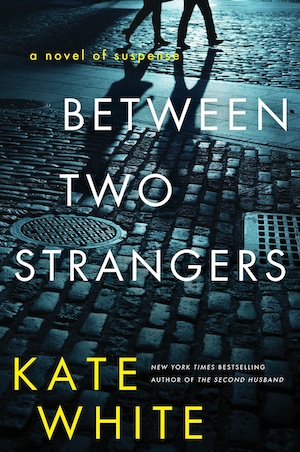 Skyler Moore can't escape the past in Kate White's new psychological mystery, Between Two Strangers. The disappearance of her younger sister 12 years earlier, when Skyler was a graduate art student in Boston and her sister an undergraduate, not only haunts her, but her relationship with her mother was forever damaged. Skyler's mother blames her for leaving Chloe at a party, though at the time she searched unsuccessfully for her sister and was mistakenly told Chloe had left with a couple who were driving her home. It's a heart-breaking episode, and one Skyler cannot put behind her, no matter how hard she tries.
This psychic blow ended her graduate studies, she left Boston for New York and put art behind her. Now nearing her mid-30s, increasingly isolated, she has no promising relationship that would get her the one thing she really wants – a child. You may think as I did that she doesn't appear to be a very promising maternal figure for any number of reasons, but a child is what she wants.
At least she has started creating art again, switching from painting to collage. She's good too, and a small gallery in lower Manhattan is organising a show for her. If her art career is looking up, maybe she can scale back on the freelance graphic design gigs that have kept her barely afloat. Maybe. As the show opening approaches, a call from a lawyer in the tiny suburb of Scarsdale changes everything.
He's the estate administrator for a wealthy, recently deceased pharmaceutical company executive who has left a bequest for Skyler. She doesn't recognise the dead man's name at all. How much? $3.5 million. From a stranger? Needless to say, she's floored, but when the lawyer refers to the man by his nickname, CJ Whalen, a distant bell rings.
A dozen years ago in Boston she had a one-night stand with a lovely man the same weekend Chloe disappeared. It happened before Skyler realised she was truly missing and thought Chloe was just annoyingly out of touch. She and CJ didn't exchange contact information, and they have never communicated since. It seems impossible that one encounter would inspire him to leave her such a gift, but the lawyer assures her it's real. Downstairs in the building lobby, Skyler is accosted by CJ's angry widow who certainly believes the bequest is real and threatens legal action.
Back in Manhattan, Skyler finds her apartment has been burgled, although nothing has been taken; someone tries to get into her art studio; she feels followed. Big cities offer plenty of ways for events to appear menacing, if your mind runs in that direction and Skyler's certainly does. Author Kate White's descriptions of the neighbourhoods where she hangs out make them feel very sketchy. An ominous movie soundtrack would fit right in.
Having been a loner for so long, she doesn't have much of a social network to rely on until she meets a savvy neighbour, Mariko, who's a law student and a refreshingly down-to-earth counterpoint to Skyler. A character like Skyler, who is fighting her way out of palpable distress, can become irritating, though Skyler never does. Still, Mariko seems almost too good to be true. The two women puzzle through the mysteries of CJ Whalen's bequest, which most definitely has a dark side. There's even a possibility that the widow may accuse her of extortion, or 'extortion' as the tabloids say. Yes, Skyler could give up money she never really had, but the bequest could give her a fresh start in life, freeing her to focus on her art and, most important, enabling her to afford the high costs of getting pregnant by IVF and raising a child.
If you are as sceptical of coincidence as Sherlock Holmes and most police detectives are, you may think Skyler is a bit slow to realise her windfall and the break-ins and other harassment are not separate issues. Once she finally does, White keeps the story twists coming.
Chapters about Skyler's current life alternate with ones describing that fateful weekend – when Chloe disappeared and Skyler had her steamy Saturday with CJ. The story chugs along briskly between the two time periods, each chapter leaving you on the brink of learning something critical and time for you to develop your own theories (all of mine were wrong). With its nice pacing, it's a highly entertaining page-turner of a story.
Also see Her Sister's Shadow by Catherine Wimpeney or The Wicked Sister by Karen Dionne.
Harper Paperbacks
Print
£18.61
CFL Rating: 4 Stars