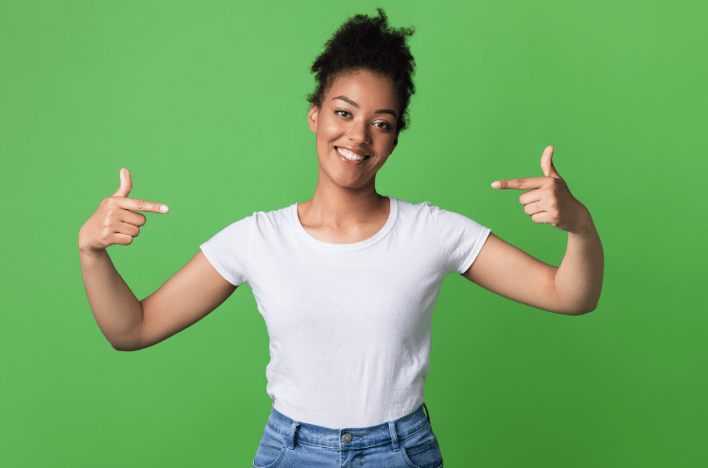 What is it that makes us decide it's time to rethink our professional or personal goals? An unsatisfying job? A career that no longer feels "right"? A nagging sense that we'd like to contribute more to solving community—even global—issues?
The past three years have moved many of us to question what we want from work and life. Yet it's often difficult to know how best to make the internal and external changes necessary to move forward.
Especially when it comes to your work life, going through the exercise of examining your "personal brand" is a good place to start. 
If the phrase makes you cringe at the thought of "selling yourself" as you would a product, stay with me a moment.
Creating and refining an authentic personal brand is so much more than crafting a 15-second elevator pitch. It's about something deeper, more personal, and more multifaceted. 
It's about self-reflection. 
Who are you, and what makes you feel most alive? What's unique about your life and work experience? What work gives you the deepest sense of fulfillment? What's your expertise, where do you want to contribute, and how can your contributions benefit your company, your community, and the world?
By starting with questions like these, you're more likely to create and share an authentic personal brand that has deep meaning for you and the people you want to serve.
I had the pleasure of delving into the topic of personal branding with an expert panel during a recent PowerSpeaking Live!  In this blog, I'll share some of the insights and practical tips we discussed to help you discover, communicate, and live your personal brand, no matter where you are in your career.
Don't have time to read the whole guide right now? 
Let us help you succeed with our proven tips for Building Your Personal Brand. Get the PDF version that you can save to your desktop and read when it's convenient for you.
(Direct Download, No form required):
What is at the Heart of a Personal Brand?
In a Harvard Business Review article, engineer and author Nahia Oduña proposes you think of your personal brand as being defined by three key aspects: your uniqueness, your values, and your contributions.
I love the concrete example Oduña gives to paint a picture of what this three-part branding model looks like . . .
"As an example, I'm a woman passionate about technology, with an international background, who has experienced the challenges of being a working mother and immigrating to a new country (uniqueness). I stand for equality and want to help people from diverse backgrounds find good jobs in our digital world (values). I lead a technical team at a tech company, and people come to me for career advice—tips around how to get into tech or how to upskill their workforce (expertise). Combined, these elements of my professional and personal identity create a personal brand that is entirely unique to me, my values, and my expertise."
I asked panelist Amy Powell, VP Leader Development at The Marcus Buckingham Company, for her thoughts on Oduña's three-part definition of a personal brand  . . .
Discovering these deep, personal truths and goals is so important in creating an authentic personal brand that brings you fulfillment.
Here's another step in the journey . . .
What is the Language of Your Personal Brand?
In that same Live! panel discussion, an audience member voiced a common question: How do you market yourself without sounding like you're bragging?
Self-promotion does not come naturally to many of us, which is why the concept of developing one's personal brand feels like a very daunting, sometimes off-putting exercise for many. That's not what this is about though. Shift your mindset and this process will become much more natural. I promise.
Amy offers some great insights here . . .
As Amy says, it's not about self-glorification. It's about sharing with others how you can help and make a difference. 
One of the things Amy recommends is to use a quality self-assessment tool to help you identify your unique, natural interests and values. This kind of self-awareness can help you see more clearly how and where you want to contribute. 
One of the many tools available is the one Amy mentioned, the StandOut® strengths assessment. Developed by The Marcus Buckingham Company and co-published with the Harvard Business Review, the assessment is free. I and many coworkers have used this tool and found it to be incredibly useful.
When it comes to the "language" of your personal brand, the old adage "A picture speaks a thousand words" is also worth considering. Morgan Wider, CEO of Wider Style, and another Live! panelist, stresses the importance of aligning your personal style with your brand. She tells a great personal story about how she eventually learned to adopt an authentic personal style . . .
Now it's time to turn outward a bit, to look at what you can learn about personal branding from big-name product brands . . .
Lessons From the World of Product Branding
Nike. Apple. Coca-Cola. TikTok. Disney. When you hear or see these names, you know immediately who they are, what products or services they offer, how you can benefit from them, and what their value proposition is. 
So, are there similarities between what companies like Patagonia do to attain brand awareness and your personal brand? Absolutely.
Kristin Lincoln, Founder and Chief Strategist at LiveWire Consulting, talks about what you can learn from product branding . . .
The internet is rich with product brand-marketing tips that can be very helpful in building and growing your personal brand, so consider it a valuable resource. 
Just one example is a 2021 list of "15 Go-to Tactics to Expand Brand Awareness" published by the Forbes Coaches Council. Here are four of the tips from their list:
Tell compelling stories and be consistent

Focus on building social proof by providing value

Put a robust brand identity and strategy in place

Publish content regularly to get noticed
Storytelling came up several times in the full Forbes' list, and rightly so. Let's look at how telling and sharing stories can energize your personal brand.
Does Your Personal Brand Tell a Compelling Story?
The power and value of storytelling in business has been a hot topic the past year or two. At PowerSpeaking we teach presenters and speakers how to use stories to engage, create understanding, inspire action, and make messages more memorable. 
In creating a personal brand, storytelling has many uses. 
First, of course, is the story you develop and communicate that's driven by who you are, what you value, and what you offer. Sometimes that takes the form of the familiar elevator pitch. But sometimes, as Amy explains in this clip, it manifests through sharing specific stories about your potential contribution in a specific situation . . .
I love that Amy advises not to discount accomplishments that might seem unrelated, because in the right context, it might be just what the customer needs.
There's a second type of storytelling that does as much, if not more, to ensure your brand is a compelling choice: the stories people tell about you.
It's a fact that word of mouth is one of the most powerful ways to gain more business. And what does word of mouth usually include? Stories. Testimonials about how much a customer benefitted from your product or services. Raves about how well you treated a client in need. Anecdotes about how your service saved a customer time and money.
So, be sure to make others' stories about you part of what you share as you build and grow your brand.
Final Thoughts
I've read many times in recent years that the younger generations put a high premium on meaningful work, often ranking it higher than pay or benefits. I'm thrilled to hear it, and not just for personal reasons.  
Because of my experience in the learning and development field, I have a deep understanding of the power of meaningful work—for individuals and organizations. When people find what they love to do, dive into it, and are able to share and contribute from that foundation, the sky's the limit.
So, my wish for you this new year is to create an authentic personal brand and embark on that skyward journey.
Carrie Beckstrom