9th May
I was glad to revisit the town of Cemetery, Indiana, in Lori Foster's newest Indiana Summers standalone contemporary romance. Come along and meet #TheFlowerShopGirl and fall in love along the way.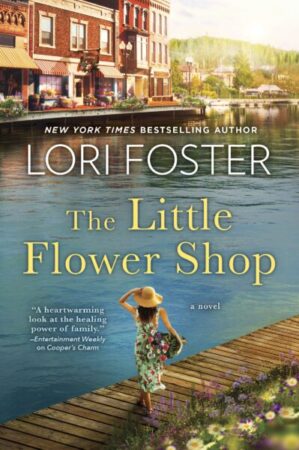 The Little Flower Shop
by Lori Foster
Series: Indiana Summers Series #2
Genres: Contemporary Romance
Source: Publisher
Purchase*: Amazon | Audible *affiliate
Rating:

Heat Level:
How did her love life become a community affair?

Since her divorce, Emily Lucretia—affectionately known as the flower lady to the people of Cemetery, Indiana—has been focused on her flower shop and taking care of her aging aunt and uncle. Her love life is hardly the centerpiece of her busy days.

Saul Culver, the town's favorite bachelor and owner of the local barbecue joint, has been interested in Emily for a while. But as much as Emily knows about flowers, she can be a little oblivious to her own appeal. Saul is determined to show her just how special she is.

Saul isn't the only one trying to get Emily out of her shell. Well-meaning locals have started tagging photos of Emily with #theflowerlady on social media—and now the entire town is involved in finding her Mr. Right. Saul won't give up easily. He's finally caught her attention, and he's determined to convince Emily—and the town—that this is the real deal and not just some passing trend.
With a name like Cemetery you'd expect a dark, morbid town with a giant cemetery… instead you'll find a sweet lakeside tourist town with plenty of great shops and a touch of whimsy.
Emily Lucretia returned to Cemetery where she opened a flower shop. She loves the shop and being close to the Aunt and Uncle who raised her. The story opens with the wedding of the previous couple where Saul Culver, owner of the local barbecue joint and town's favorite bachelor, makes his move. Well, truth be told, he has hinted for a while, but Emily has been oblivious. I adored Emily. I am sure you will too.
Saul is an all around good guy and steps up to help Emily when her Uncle takes a spill. Emily's co-workers and family were wonderful and page time with them made me laugh and tugged at my heartstrings.
The romance had a slow-burn feel to it until Emily began taking charge. The relationship was sweet with a sizzling undercurrent. Both characters show growth and you'll root for them. The drama was low key and had more unexpected turns and compromises.
We have side threads regarding wards, family, co-workers and, of course, the local mannequin. The story is rounded out with cats, dogs and meddling townsfolk. Foster delivers characters and situations that felt genuine. She'll have you packing your bags and wanting to move to this small-town with all of its charm.
If you are looking for a feel-good read to curl up with, I highly recommend you take a trip to Cemetery and lose yourself within the pages of The Little Flower Shop. I for one, cannot wait to return.

Stay Caffeinated!
Never miss a post by adding Caffeinated to your Inbox
Reading this book contributed to these challenges: