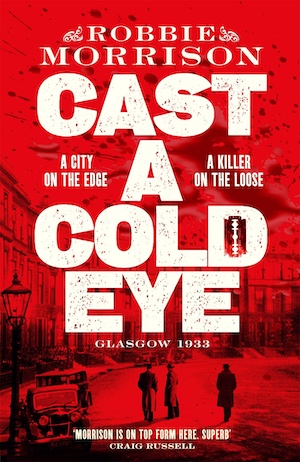 Some TV shows open a door for crime fiction, and surely the popularity of Peaky Blinders, though entirely fictional, reminds us that ganglands are as old as cities and didn't arrive with the Krays in 1960s London. Scottish author Robbie Morrison's 2021 debut crime novel, Edge of the Grave, brought a grounded, vivid and atmospheric 1930s Glasgow, pulsing with the heartbeat of a hummingbird. 
Lauded on publication and later shortlisted for the CWA Historical Dagger, it won the Bloody Scotland Crime Debut Award in 2021. So Morrison's second Jimmy Dreghorn novel, Cast a Cold Eye, has a lot to live up to as it dives back into the underbelly of the depression era city blighted by razor gangs and sectarian division.
Inspector Dreghorn, a former boxer and WWI veteran, is a Catholic cop in a Protestant force. His partner, Sergeant Archie McDaid, is a bigger man who used to wrestle. Together they front up to the city's criminals, meeting violence with violence. 
Dixon 'Dixie' White is wanted for robbery, assault and battery and possibly manslaughter as a cinema night watchman fights for his life in hospital. When the polis catch up with him White pushes a woman into the Clyde to distract them. WPC Ellen Duncan rescues the woman but it leads to the discovery of a body. Captain Smith of the Blue Bonnet has been shot from point blank range in the back of the head. This looks like a gangland execution, and violence has been spreading in the city but ammunition is hard to get hold of. There's concern that knives and razors are being swapped for guns. 
Trying to shake information out of night club owners, illegal gambling dens and street thugs doesn't get Dreghorn very far. No-one wants to talk themselves into an early grave. Things get more complicated when a second body turns up and the same MO means there's a brazen killer on the loose. This time the body is found in a toilet at the historic Hampden Park football ground during an international with England. 
Not long after, there are rumours of Irish republicans active in Glasgow. Could this be connected to Dreghorn's case? Special Branch soon put in an appearance in the guise of Superintendent Haldane and the mysterious Mr Quinlisk. Dreghorn's case is complicated by the fact that Haldane, mistrustful of his religion, questions his loyalty. Dreghorn is being watched but the suspicion is mutual. When notorious Irish republican Conall Tracy turns up, is he the businessman he claims to be, or is something more sinister going on? Religious affiliation, fear of gangs and backhanders all mean that the polis can't always be trusted.
Crime Fiction Lover described Edge of the Grave as dense, immersive and visceral and that's true of Cast a Cold Eye too. It's vivid, unvarnished and brutal with a touch of ice-cold humour. Clearly Morrison has steeped himself in 1930s Glasgow, the research is impressive and real characters such as Commissioner Sillitoe and the first female police sergeant, Jean Malloy, mingle with fictional creations very well. There are times when a phrase like 'fitba-crazy' or a contemporary reference like 'the Irish Bonnie and Clyde' sound a bit anachronistic but they are just about plausible. The action matches Peaky Blinders for visceral thrills and and the plot is gripping. 
There's no reason Dreghorn and McDaid can't sustain a series if Morrison has a mind to let them. The past weighs on them both. McDaid has his family and for Dreghorn there's a love interest with the arrival of old school friend Rachel McAdam, assistant to newly appointed magistrate Martha Hepburn. The times are-a-changing, sort of.
An important aspect of the novels is the backdrop – 1930s Glasgow. This is a thriller but it's also a chronicle of the city and its history. At times it's a slow burn, peppered with details, stories and asides that explore the life, culture and politics of the time and place. Cast a Cold Eye is a richer experience for that and the history is fascinating, but be aware you're in for a meander at times. It works though and the vernacular adds to the authenticity. This tale is unsettling but absorbing. A city on the edge, a new age or an abyss? 
For an off kilter view of contemporary Glasgow try May God Forgive by Alan Parks.
Macmillan
Print/Kindle/iBook
£7.99
CFL Rating: 4 Stars