But those meeting dynamics are beginning to change with the switch to virtual work.
Buelow says introverts are less likely to suffer through constant interruptions or being talked over in virtual meetings. "The etiquette of the platform is different. You're much more aware of if you're interrupting or talking on top of someone." She adds that virtually, "there are more tools at your disposal to contribute to the conversation. It's not just whoever can get a word in edgewise; there's the chat, 'raising your hand', reactions you can send." 
If you're an introvert, take advantage of the benefits of virtual meetings.  And whether you're attending one virtually or in person, use your natural tendencies to think ahead and prepare, to make it easier to contribute in real time.  Here are some ideas …
Read the meeting agenda and prepare your thoughts ahead of time. If you need time to consider the topic before engaging in a dialogue, this is a crucial step. 
Write down one question you'd like to have answered or a point you'd like to introduce on a sticky note, and put it on your laptop or computer screen. That way, you won't miss a beat when the time is right to chime in. 
Practice, out loud, what you want to say. Better yet, practice in front of a coworker or friend and get their feedback. 
Rehearse introducing yourself. Not just your name and title, but your specific interest in the meeting's topic or goal and what you can contribute. A lot of people don't realize how much the quality of their introduction impacts their effectiveness in the meeting. 
Be confident about asking for thinking time.  If there's a question or issue being discussed that you feel you need (alone) time to think about, say so.  Remember, one of your key strengths is deep, analytical reflection.  Simply say something like, "I think this question deserves further thought. I'd like to get back to you once I've had a chance to consider the options."
The Public Speaker's Chance … to Be Introverted
This is a good time to make the important point that being an introvert doesn't necessarily mean you're shy. They're two different things.  Shyness is a social anxiety.  Introversion is a way of responding to social stimulation.  Introverts need quiet, alone time to recharge after a lot of people contact; whereas extroverts "recharge" by being in the center of social stimulation.
I'm an introvert, and I love public speaking.  But I have definitely seen how myths about what it takes to be a good public speaker can cause introverts to fear the "stage"—whether it's making a presentation at work or delivering a keynote at a conference.
Here's the myth:  To be a good public speaker, you need to have a big, theatrical personality, a hilarious comedic delivery, and dance all over your stage.
While theatrics, comedy, and dance moves can be great fun and effective sometimes, you don't need any of them to be an effective speaker.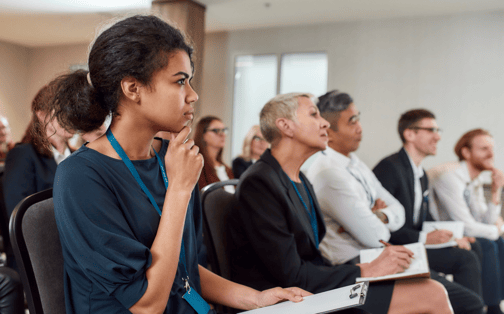 I can tell you without a doubt that the single-most important trait for being a good public speaker—especially in a business setting—is to be audience-centric.  If you care as much about what they'd benefit from hearing as what you want to say, you've taken the first, crucial step to delivering a good presentation or talk.
If you're an introvert, your natural propensity to put the focus on others sets you up to be audience-centric.  Not to mention the fact that if you adopt a service attitude to presenting and public speaking, you're less likely to focus on your own nerves.
And here's an interesting thing:  While it's true that introverts typically would rather gather with a few people than attend a big party or mingle in a big crowd, if they feel deeply about something they want to communicate, they sometimes stumble into being great public speakers.  
In "The Power of Introverts," Cain held up a few examples of famous introverts who ended up, because of their passions, being fervent and accomplished public speakers …
 

"Now in fact, some of our most transformative leaders in history have been introverts. I'll give you some examples.  Eleanor Roosevelt, Rosa Parks, Gandhi—all these people described themselves as quiet, soft-spoken, and even shy.  And they all took the spotlight even though every bone in their bodies was telling them not to.  And this turns out to have a special power all its own because people could feel that these leaders were at the helm, not because they enjoyed directing others, and not out of the pleasure of being looked at.  They were there because they had no choice, because they were driven to do what they thought was right."
So, when you're called upon to speak—either by others or by your passion—trust that your strengths as an introvert can be the foundation for success.
Closing Thoughts …
The changes we're beginning to see in the workplace for introverts as a result of virtual work are great, but some of the extrovert-centric biases and dynamics mentioned earlier do still exist.  Which is all the more reason for introverts to take the initiative to embrace and use their own strengths—and for managers and leaders to support them in doing so.
If you need an extra nudge to believe that the place to start is with your strengths, watch this brief, evidence-based pep talk from researcher, leadership consultant, and author Marcus Buckingham …
You'll probably find that remembering to lean into your strengths is an ongoing journey.  Along the way, though, there are practical things you can do as an introvert to help you become more successful in situations where communication is key—in meetings, when making presentations, and when speaking in public.  If we can help you on your journey, we're here.