Happy Easter lovely readers!
Or happy spring, or happy Passover or happy whatever you celebrate.
I bought a Honeybaked ham for today so feeding time is gonna be super simple for this fam today. I've been on this carnivore thing for a couple months so I actually bought the ham for me so I can have a ham sandwich. I have not made bread in months and I'm dying. So I made some last night. That's my big plans for Easter – ham sandwich.
I also made a pie crust. It's gonna be lemon meringue. I need to use up some eggs and lemon pie has been my favorite since I was a tiny child. My aunt and uncle had a small farm too and that's where we spent all the holidays. Aunt Dorothy would make a lemon pie. It's always been my favorite. So I still have to do that. But lemon pies are super easy.
Plus my house is a mess. Muddy paw prints all over my hardwood floors. Dining room table is filed with Aerogardens filled with cucumbers, peppers, and tomatoes. So I have a bit of tidying up to do before I can have the celebratory ham sandwich.
To celebrate spring I have a new FREE BOOK FOR YOU!
NAUGHTY THINGS BOX SET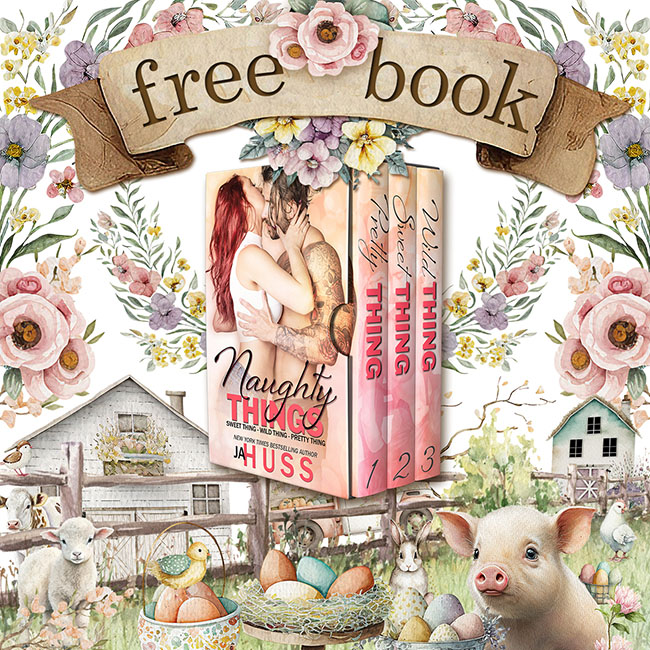 THREE Full-length taboo romance books in one!
SWEET THING is an older-man-very-young-woman sexy romance filled with forbidden lust, too many 'first times' to count, inappropriate touching in public, and an angsty, but perfect, HEA. 
Aria Amherst lied about her age the first night she and Ryker met.
But when he kissed her… he just didn't care.
WILD THING is a smokin'-hot, sexy story of a runaway princess and her reluctant Prince Charming. A tantalizing tale of forced marriage, captive submission, and a hero who doesn't know he's a hero until he meets the girl he was meant to save.
Kidnapping Lyssa was the easy part.
Taming her into submission for a pre-arranged marriage was another story altogether!
PRETTY THING is a sexy, brother's-best-friend romance filled with tender moments, second chances, and steamy love scenes that will make you sigh with happiness when you turn the last page!
Off. Limits.
That was my best friend's rule when it came to his sister.
All these years I've honored that. I never broke his trust. Until now.
---
GET ALL THREE BOOKS FREE FROM BOOKFUNNEL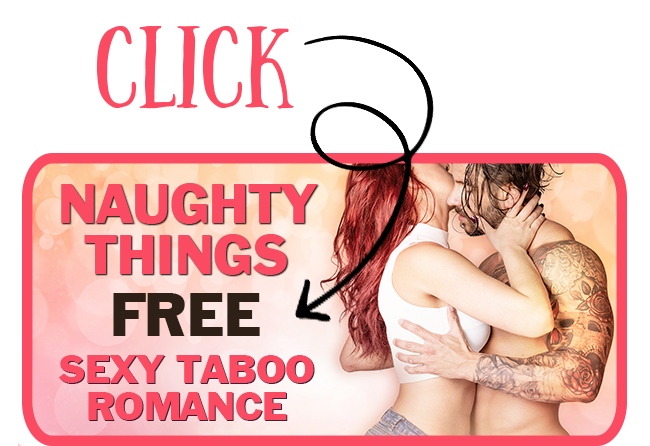 ---
TWO OF THESE AUDIOBOOKS ARE FREE IN AUDIBLE PLUS AS WELL! 
THESE ARE 100% STANDALONE BOOKS. THEY ARE NOT RELATED IN STORY, JUST GENRE.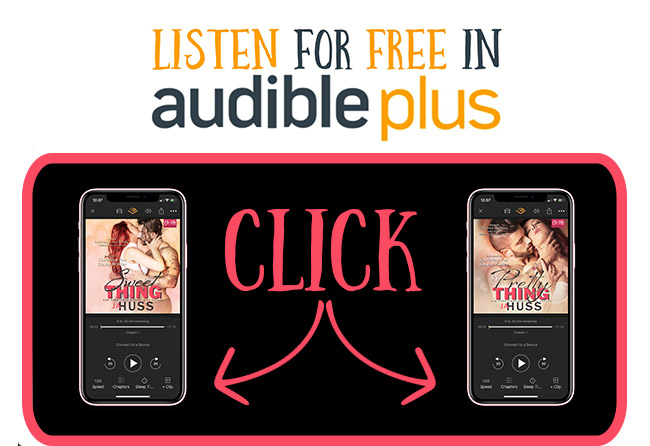 ---
I am officially 9 days behind on my next book because of course I am. I would not be Julie if I wasn't on a looming deadline. This is The Savage Rage of Fallen Gods. I have about a month to write it and apparently that's more than enough time because I don't actually feel stressed about this (yet). Of course, in three weeks I'll be a in that why-do-I-do-this-to-myself-every-single-time mood again. (as per usual). But until then, fuck it.

THE SAVAGE RAGE OF FALLEN GODS
Savage Falls #1
Dark Fantasy Romance
By JA Huss writing as KC Cross
Release Date: August 8, 2023
Love can ruin the best of men—even the God of Love himself.
Love.
When mutual, it's Heaven on Earth.
When one-sided, it can tear you apart.
There is no greater weapon than the heartsick soul.
That is the power I wield, for I am the God of Love.
No one has power like me.
No one can poison a heart and pollute a mind the way I can.
That is why the gods kicked me out.
That is why they made me fall.
But now I'm back.
I'm going to ruin kings.
I'm going to destroy gods.
I'm going to crush the whole wicked world with the power of the broken heart.
Well, that was the plan.
And then, out of nowhere, there she was.
After two-thousand years, there she was.
The one who made me love her.
The one who stole my heart and then broke it.
She is how the gods ruined me.
And now it's my turn to ruin her.
The Savage Rage of Fallen Gods is a story of a broken heart. It is a tale of regret, and promises, and how revenge can darken a god's soul. It is a standalone book in a brand new series by New York Times bestselling author, JA Huss, writing as KC Cross.
THIS BOOK WILL RELEASE INTO KINDLE UNLIMITED ON AUGUST 8, 2023
IT WILL NOT BE FOR SALE ON ANY OTHER PLATFORMS OTHER THAN AMAZON AFTER AUGUST 7, 2023
---
So I have some cool news. I have a new box set for the Anarchy series. I sent out a newsletter yesterday so if you read that, you saw I mentioned this. But I put up some new covers for these books too. They are PINK! I kinda love it. The Anarchy series is a steamy supervillain romance. Fun fact – Anarchy Chained (this is book 3) was the very first book I used Teddy Hamilton for narration. He blew me away and basically, he's done like a dozen more narrations for me since then.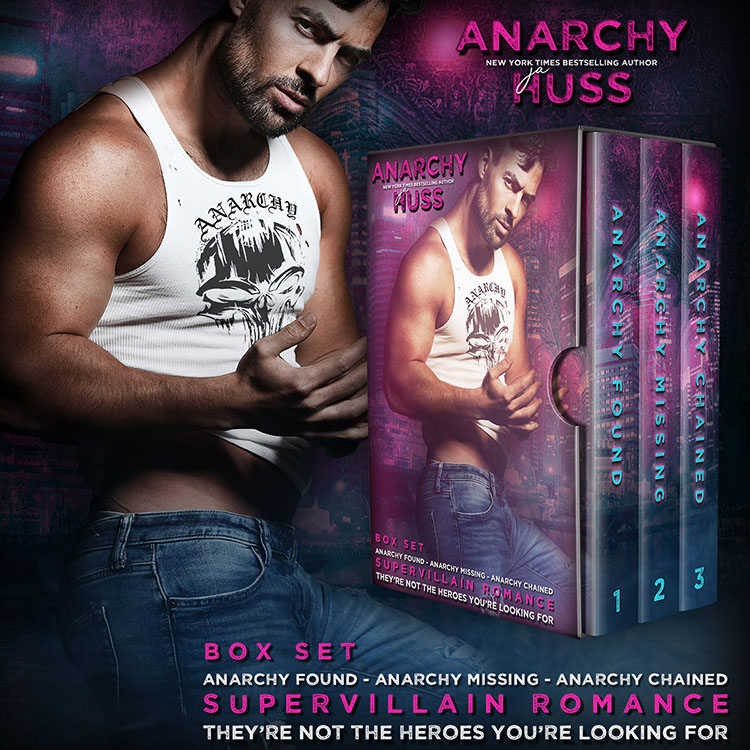 Even bad guys fall in love.
And even good girls go bad.
Cathedral City is falling apart. It's bleak, and hopeless, and riddled with evil. There's too much crime, too much corruption, and a darkness has fallen over the once-glorious mountain valley.
The people need a hero. A champion. Someone to serve up some justice and get a little revenge.
Hold on. Heroes don't want revenge.
No. They don't. But Lincoln Wade, Case Reider, and Thomas Brooks never claimed to be heroes. They're villains—the science-fiction kind. And they have no use for justice. They just want to punish the people who ruined everything.
But every villain has an enemy and a weakness. In this story, these three women are both.
Detective, Molly Masters, wants to arrest Lincoln—but they share a bond they've long forgotten about.
District attorney, LuLu Lightly, wants to prosecute Case—but she still remembers him from her youth and yearns for what they could have been.
Super-soldier, Sadie Scott, has been programmed to stop Thomas at any cost—until she meets the real him and everything about her world flips.
Can the bad guys find love? And if so, will this love ruin Cathedral City? Or save it from hopelessness?
The Anarchy Series Box Set is a steamy, action-packed story about supervillains and the ladies who love them.
Includes all three books in the series:
Anarchy Found – Alpha Lincoln
Anarchy Missing – Alpha Case
Anarchy Chained – Alpha Thomas
---
If you missed my farm update video – well, guess what? You can watch it right now!
APRIL 2023 FARM UPDATE
---
The one thing I really want to talk about in this update is the NEW JULIE & JOHNATHAN BOOK! I can't wait for you guys to learn what it's about. You're going to smile SO big! And trust me, you're gonna love it. We've made something truly fun, and whimsical, and 'feel-good' and satisfying in this story. It's a rom-com, in case you didn't know.
I had this one reviewer say something like JA Huss doesn't write funny, she should not try to write funny. Or something like that. But listen bitches, I write some funny shit. lol I don't write a LOT of funny shit, but when I want to write funny shit, I nail it. Like… Vic Vaughn is Vicious? Come on. That reveal was funny. You didn't see it coming, did you? You didn't. lol Nolan and Five's little girls in Mr. and Mrs.? Fuckin' epic. Ellie's 'tampon scene' in Mr. Perfect? Admit it, you were DYING. Admittedly, the 'butter scene' in that book is really more of what I usually write. But Ellie, she was funny.
And you're gonna laugh your ass off in this new book. Plus Johnathan McClain is like legit funny. Like, he's been on TV being funny. Someone paid him to be funny. So we pretty much nail the funny.
And I will give you one little sneak peek secret about our upcoming book – ready? I write the GUY in this one. And he writes the GIRL. OMG, you're gonna love it.
All right, I guess that's all I have to say today. I just wanted to put up a quick blog post and let you guys know about the newsletter and farm update—plus wish you all a Happy Easter.
Talk soon,
Julie