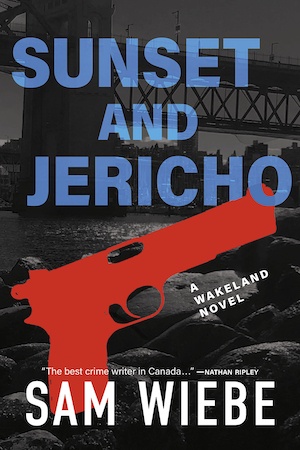 Canadian author Sam Wiebe is known for his gritty, realistic Vancouver noir, especially the Dave Wakeland series about a former cop turned private investigator. Sunset and Jericho is the fourth book in the series however it can be read as a standalone. If you are familiar with Vancouver, you'll recognise the two city beaches named in the title.
Wakeland is as tied to Vancouver as Rebus is to Edinburgh or Bosch to LA. The city features prominently in this action packed novel. It is a beautiful, multi-cultural place, topping lists of most desirable cities to live in. Sadly, the rich are the only ones who can truly afford the high cost of living in Vancouver. Like many large cities, the gap between the haves and the have nots has grown considerably in recent years. The impact of that gap is closely tied to the plot of Sunset and Jericho.
When the book opens, Wakeland is in a dark place that only serves to amplify his usual sardonic disposition. His relationship with Sonia has ended and she has moved to Montreal. He is feeling rundown because everyone else in his office, including his partner Jeff Chen, has been off sick with the flu. When approached by the mayor's office to search for her missing brother, Wakeland declines the high profile job as he is frustrated by the lack of information provided about the missing man. Instead he accepts a less lucrative job to locate the missing service weapon belonging to a transit officer who was viciously attacked and blinded while at work. As per usual, Wakeland's defiant nature kicks in.
When Wakeland begins his investigation into the missing weapon, he comes across a series of silver graffiti tags with comments like "ONLY THE RICH FEAR THE DEATH OF KINGS." The police think that the graffiti is the work of a white power group called Woden's Bastards. Wakeland disagrees with their theory. He has uncovered a link between the missing weapon and the mayor's missing brother. He continues his investigation which takes him to both ends of the economic spectrum in Vancouver.
The economic situation in Vancouver hangs like a dark shadow over Sunset and Jericho and it helps to ground the plot in realism. Wakeland and Chen are overextended financially. One of their biggest clients has gone into receivership. Other clients are behind in payments. Wakeland's adoptive mother has not been able to make payments on her mortgage or line of credit after getting a new roof and heater. Ironically, the sale of her older home would make her a millionaire. Most people are struggling to get by but Wakeland also sees how the ultra-wealthy live. Wiebe deftly paints a picture of the two extremes.
Wakeland discovers a group called the Death of Kings who see themselves as modern day heroes fighting against the elites of the world. They feel that their actions are justified and that they are doing a good thing for the people of Vancouver. He investigates whether their motivation is personal or political, or perhaps a combination of both driving factors.
Sunset and Jericho is a novel that will have you exploring your feelings around crime and social warfare. Do the ends ever justify the means? Is the brutal death of a multimillionaire acceptable if provides some funding to a worthwhile charitable organisation? This is a fascinating look into how people can get pulled into domestic terrorist groups.
The deeper Wakeland gets in his investigation, the faster you will want to burn through the pages. Wiebe is a master of ratcheting up the tension and there are many twists and turns in Sunset and Jericho. Wakeland's investigation has a high element of risk but his stubborn streak keeps him digging long after others would have walked away. The ending of Sunset and Jericho will shock you to your core. It is Sam Wiebe at his finest.
For another perspective on the Vancouver setting try Rolling Thunder by AJ Devlin. Sunset and Jericho is out now in North America and on 1 June in the UK.
Harbour Publishing
Print
£15.18
CFL Rating: 5 Stars