AMSTERDAM — Nadia Rashid met wealthy Indian businessman Shehzad Hemani in Amsterdam in 2010 during the International Film Academy Awards (IIFA), and the couple married in 2011. 
However, the marriage was no fairy tale. Hemani changed and became mentally and physically abusive toward his wife, isolating her from family and friends. Rashid told no one out of shame.
Adding to the couple's troubles, Hemani resided in Mumbai, while Rashid lived in Amsterdam.
On March 6, 2014, Rashid gave birth to the couple's daughter, Insiya. Hemani flew to Amsterdam for the child's birth but returned to India a few days later, leaving Rashid to care for the infant alone. Within six months, Rashid and her daughter traveled to Mumbai a half dozen times, which took its toll on Rashid. She later said she "felt like a single mother in a marriage." Hemani showed little interest in his daughter and wife.
Rashid eventually told her husband to prioritize their family, or he would no longer be "significant" to her and Insiya. A few days later, an angry Hemani sent a Facebook group message to Rashid's friends, stating he wanted to discuss his wife. Rashid immediately tried calling her husband, but Hemani ignored her calls. She then sent him a text asking what he was doing.
Hemani immaturely called her a loser and threatened to sue her if she filed for divorce. He also wrote her brother, saying Rashid would "pay for this" and that he would "shame her name." Hemani made Rashid's life a living hell. She filed for divorce but still wanted Insiya to have a relationship with her father.
During this time, Insiya had grown into an adorable but mischievous toddler who loved the Disney movie "Frozen," particularly the character Olaf, and found Cinderella "the most beautiful Disney princess." The marriage between her mother and father was over, but Hemani refused to let things go between him and Rashid.
He threatened Rashid at her home, telling her he would have his friends murder her. Rashid filed a complaint against Hemani with the police. However, Hemani kept threatening her, stating he would kidnap Insiya and take her back to his homeland so Rashid would never see her again. 
Hemani also sent numerous detailed text messages to Rashid's family, revealing he always knew of Rashid's location. Straight out of a crime drama, Rashid searched her car and found a GPS tracking device underneath the vehicle. She went to the Dutch authorities, and they temporarily put her and Insiya into hiding. The police ordered Hemani to stay away from Rashid and Insiya for several months, but he refused.
On Jan. 13, 2016, two policemen showed up at Rashid's home after they spotted Hemani in a rental car containing a child seat outside Rashid's residence. Authorities feared he would kidnap Insiya, so they temporarily hid the mother and daughter again.
Hemani and Rashid went to court over their daughter and marriage several times, and Hemani lost every time. The court ultimately granted Rashid sole custody of their daughter, which enraged Hemani.
He set out to destroy his ex-wife and devised the ultimate plan. 
After the divorce, Rashid and two-year-old Insiya stayed with Rashid's mother. On Sept. 29, 2016, Rashid left for work while her mother and Insiya ate breakfast. Rashid's sister was also present. Shortly after, three men knocked on her mother's door, pretending to be government officials, but her mother and sister did not believe them. 
One of the men spotted Insiya, ran and grabbed her, and took her to a waiting Renault Espace. Insiya wore only a diaper and pajamas. 
Rashid's mother and sister attempted to stop two men, but one beat her mother while the other tasered her sister. All three men ran toward the waiting car, but a neighbor tackled one of the kidnappers and restrained him until the police arrived. The other two managed to drive away with the little girl.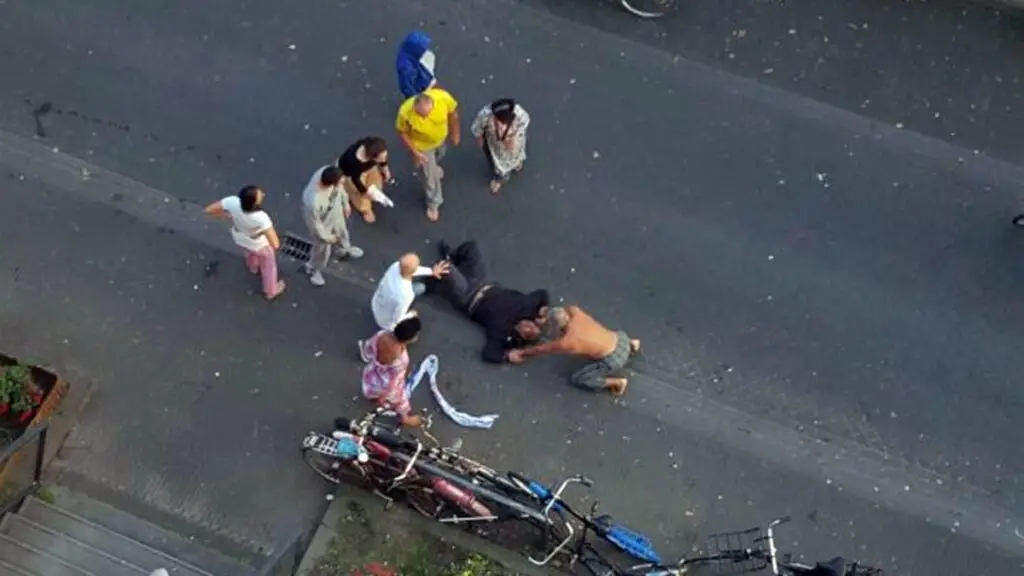 Rashid soon discovered that taking Insiya was no ordinary parental abduction but military-style mission months in the making.
Within a few hours after the abduction, police activated an Amber Alert. One of the kidnappers surrendered to the police the day after the abduction.
Dutch investigators located a document on the man's computer titled "Operation Barney," a detailed plan to kidnap Insiya. According to Rashid, Operation Barney had five phases, code names for the kidnappers based on Disney characters, an observation and pick-up crew, and many weapons.
Seven people assisted Hemani with Operation Barney: 
Robert B. or H. (news articles use either letter)
Daniël C.
Erik S. — a business acquaintance of Willem V. He is now in his 60s.
Imran Sopariwala — Hemani's cousin
Huibert V.
Lizzy S.
Willem V. was the man who surrendered and drafted "Operation Barney." He had served ten years in the military.
Willem V. later said in court that Erik S. had approached him, said Hemani needed help getting his daughter back, and advised Willem V. to create a plan. Afterward, Daniël C., Erik S., and Willem V. had a Skype call with Hemani, who lied to the men and said that Rashid had kidnapped Insiya and he needed to get his daughter back.
"A one-sided story. I totally misjudged it," Willem V. later said. Per the NL Times, "He described the plan he drew up as a sales pitch to convince Hemani that he could do the job."
The plan included two teams: a surveillance team and another who would kidnap Insiya. The group also purchased burner phones to communicate with Hemani and each other.
Robert was the man the neighbor had tackled to the ground. He carried the Taser and zip ties. Some reports say Robert had only the Taser, while Willem V. had the zip ties.
Sopariwala and Willem V. were the two who drove away with Insiya. They took her to the De Witte Bergen Van der Valk hotel parking lot in Eemnes, where they handed her over to another group. That group took Insiya to Erik S.'s home in Germany and eventually smuggled her to India, where she was reunited with Hemani in January 2017. Huibert V.'s and Lizzy S.'s roles in the kidnapping are unclear.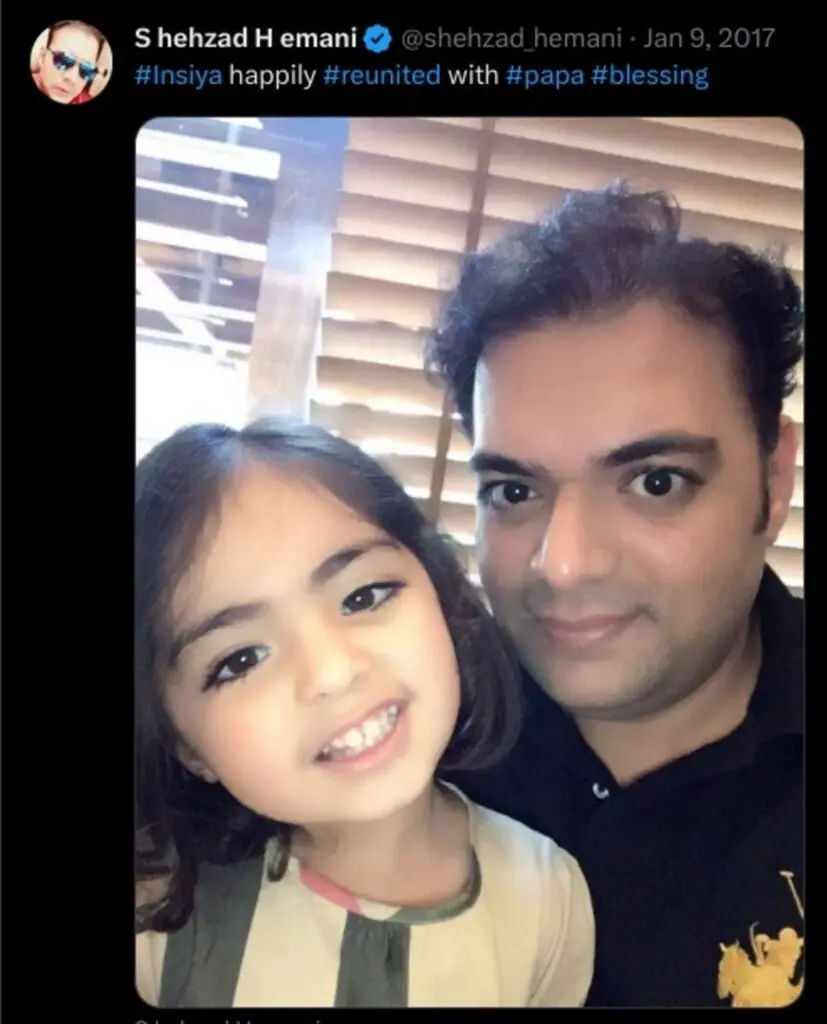 Dutch journalist John van den Heuvel tracked Hemani in Mumbai in October 2016, and the battle to recover the toddler began.
In December 2016, Hemani spoke in an interview with the Mumbai Mirror in which he admitted that Insiya was with him and accused his ex-wife of being the abuser.
"Yes, our daughter Insiya lives with me in Bandra. But I brought her here from Amsterdam to save her from Nadia," he claimed.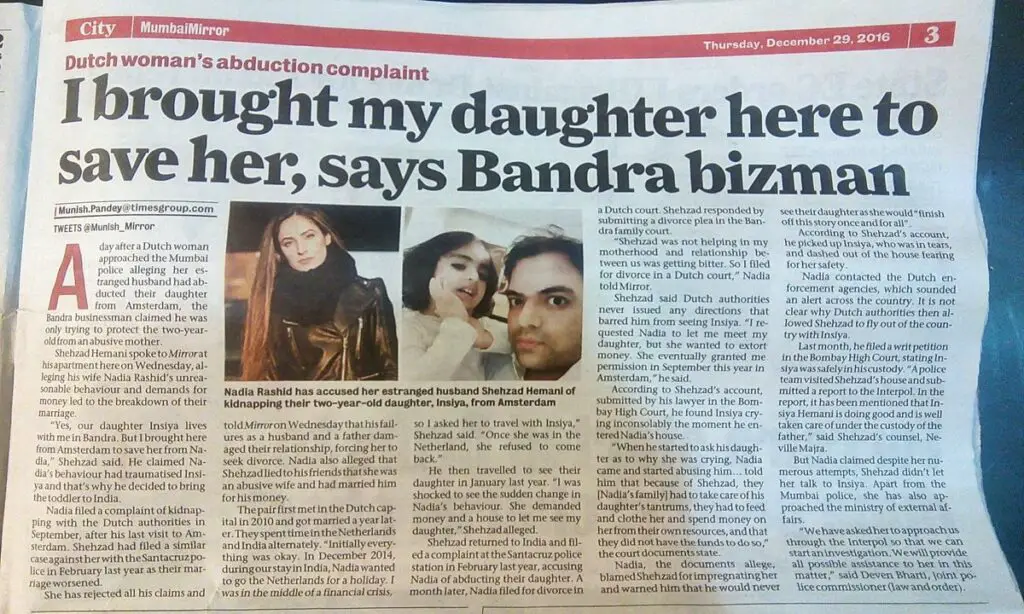 He also claimed Rashid threatened to keep him from seeing their daughter if he did not give her money and purchase them a place to live. Rashid denies all accusations made against her by her ex-husband.
Hemani flat-out lied about how Insiya ended up in India, saying he was the one who ran off with her after he showed up for a visit and found the little girl crying.
According to the Mumbai Mirror, in November 2016, Hemani "filed a writ petition in the Bombay High Court, stating Insiya was safely in his custody." Mumbai Police arrived at his home and allegedly found Insiya well cared for and in good condition and did not remove her from his home.
In 2019, the District Court of Amsterdam sentenced six of the seven kidnappers, but the punishments were lame.
Erik S. received four years and three months in prison, Robert and Daniël C. four years, and Willem V. only three. The court sentenced Huibert V. and Lizzy S. to 16 and 12 months, respectively.
The public prosecutor tried to get India to extradite Hemani but failed. On Sep. 23, 2020, Hemani and Sopariwala were on trial in absentia. The court sentenced Sopariwala to four years in prison. On Oct. 12, 2020, the court sentenced Hemani to nine years in prison for arranging the kidnapping of his daughter. To date, he has not served his sentence and remains in India with Insiya.
Hemani admitted on Twitter that he had his daughter, uploaded pictures of them together after her abduction, and often used the hashtag #Insiya. He's cocky and confident; I'll give him that. He tweeted several times nothing but lies about his ex-wife and again accused her of kidnapping Insiya from India.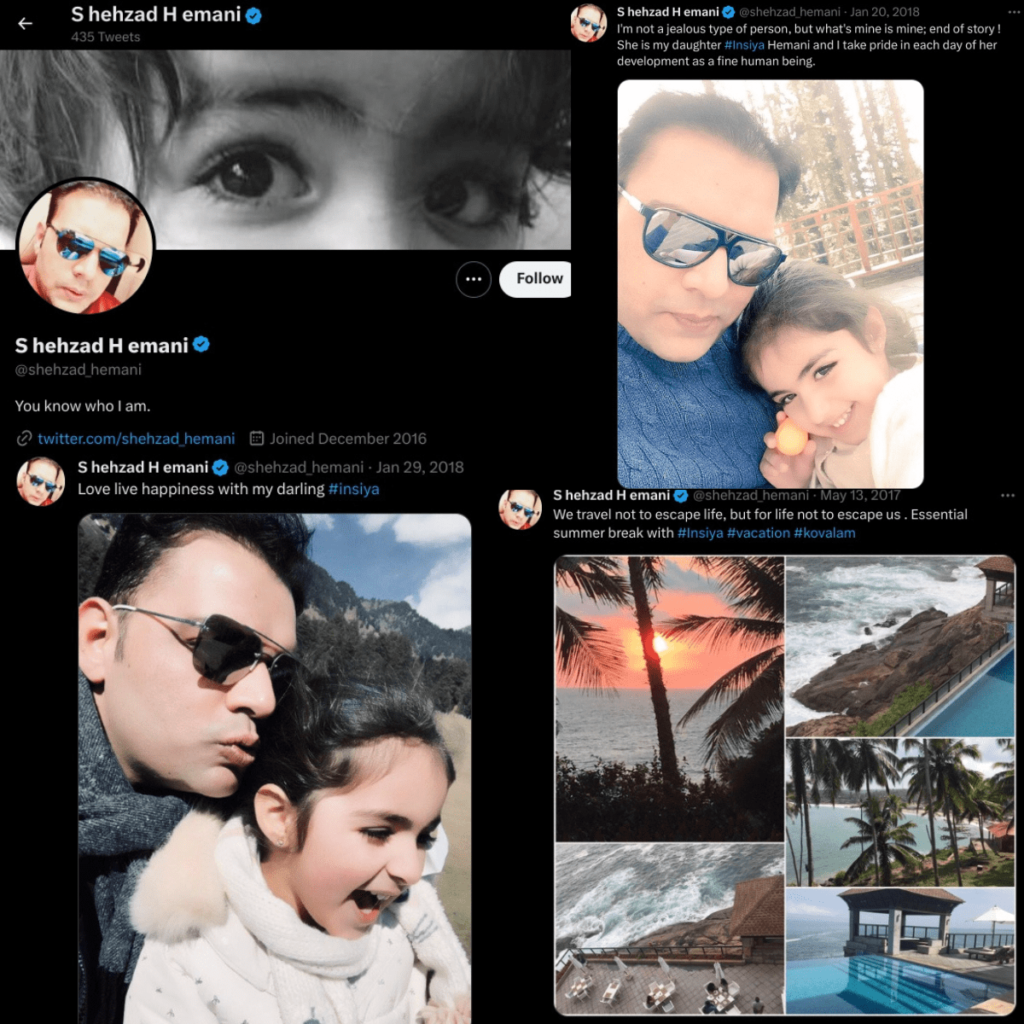 Rashid has not seen Insiya since the girl's abduction, but she and the Dutch authorities believe the girl is still in India. Insiya is a Dutch citizen and is now nine years old. 
Rashid started the website "Bring Insiya Back" and a Facebook page. She has appeared in the media numerous times and has a TikTok account.  She continues the fight to bring Insiya home. Hemani stopped using his Twitter account in 2021. He is also on Facebook.